If you are nearsighted but are not a candidate for LASIK, Visian ICL may be a good option to help you go glasses-free. Visian ICL (implantable contact lens) is a reversible treatment that involves a lens implanted into your eye to help you see well without the need for glasses or contacts.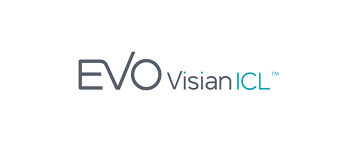 Here at Kirk Eye Center, we offer Visian ICL along with LASIK and PRK as options to correct your vision. If you are interested in achieving better vision, give us a call to schedule your consultation. We serve patients in Chicago, River Forest, Oak Park, Cicero, Naperville, and nearby areas of Illinois.
Visian ICL is an FDA approved surgical treatment to correct nearsightedness. It is a minimally invasive outpatient procedure that only takes around fifteen minutes to perform.
During the procedure, your eye will be numbed by drops. An oral sedative may be taken as well to calm anxiety. No general anesthesia is needed for this procedure. A small incision is then made in the eye, and the flexible collamer lens inserted. The incision is so small that it doesn't even require stitches, and you are free to go home right after the procedure. Visian implantable lenses are made of collamer, which is a natural material compatible with your eye.
Most patients find that their vision is almost immediately improved. You will come back for a follow-up visit the next day so that your eye surgeon can check to make sure everything looks good and is healing properly, and you can then go about your normal day with improved vision.
Who Is A Candidate For Visian Implantable Contact Lenses?
Visian ICL is often a good choice for patients who are not candidates for LASIK. It is an appropriate treatment for patients who:
Have dry eyes
Have thin corneas
Have severe nearsightedness
These conditions often prevent LASIK treatment, but they are not deterrents to Visian ICL. In addition, good Visian ICL candidates:
Are in general good health
Do not have any eye diseases
Are between the ages of 21 and 45
Do not have significant astigmatism
Have stable vision
Visian ICL can correct a wider range of nearsightedness than LASIK. You can have this procedure with a prescription of up to -20D.
Reviews
"Great overall experience with my Lasik procedure for both my eyes. Dr. Kirk & the staff were fantastic throughout the entire process. I'm so pumped that I don't have to wear contacts or glasses ever again!"
- B.M. /
Google /
Jun 19, 2020
"Although I am fairly young, for some reason my eyes started to develop cataracts. Getting to a point when driving my car became a dangerous adventure, after a thorough search on internet I have opted for cataract surgery at Kirk Eye Center. I wasn't disappointed, everything there was top notch! Starting from the receptionists to the nurses, I was always treated in a very professional and courteous manner. Many thanks to Ms Joyce Wolter, the surgery manager who helped me going through all the paperwork and dealed with my insurance! She made everything look easy to me! All my life since childhood I've had poor vision but now after my right eye surgery I have 20/20 vision! It feels like I am reborn, all these vibrant colors and multitude of details I have never been aware before! Thank you from the bottom of my heart, Dr Scott Kirk! You gave me the best gift! We all take for granted the vision and we realize that only after we lose it! Note: I have opted for premium IOL's, I wanted for my eyes the best I can get. They are quite expensive and not covered by insurance, but I can personally state that they worth every penny! I cannot wait for the left eye surgery a week from today!"
- G.R. /
Google /
Sep 22, 2022
"Dr Kent Kirk and the entire staff are amazing.They are caring, well organized and I had a fantastic resultMy sight in my right eye went from just barely being able to see the big E on the eye chart to 20/25 visionJust incredible!!!Thank you Dr Kent Kirk and staff I could not be happier Getting ready to do my second cataract surgery and I would NOT use anyone else but Kirk Eye Care!!!They know what they are doing and do eye care extremely well!!"
- I.D. /
Yelp /
Sep 13, 2022
"I don't think words can express the gratitude I feel towards Dr. Kirk and his incredible office and surgical staff for all that they did for me. I had ICL surgery done last month and it has been life changing.  Dr. Kirk was informative, helpful and answered every single question I had before and after surgery.  The timing of my recovery overlapped with some personal plans, and Dr. Kirk and his staff went out of their way to still schedule my first few appointments on days and/or times that they don't normally schedule patients in order to ensure that everything looked and felt good after the procedure. I couldn't believe how kind and thoughtful they all were. Not only am I still in awe of having perfect vision again, I will forever be grateful to Kirk Eye Center for everything they did for me. I highly recommend Dr. Kirk and the ICL surgery!"
- K.S. /
Yelp /
Sep 02, 2022
"As a new patient, I had my first opportunity to visit the Gurnee, IL office of ophthalmologist, Dr. Tyler Quentin Kirk. It took some weeks to get the appointment, but I waited patiently and was rewarded this morning with a sense of calm that let me know I was in the right place. From the welcoming voices on the phone and at the front door; during my exams and explanations; to our good-byes, I would like to thank Dr. Kirk and his wonderful staff. Janely, my 'first responder,' with whom I spent the most time, and all the other girls who assisted me or with whom I interacted: Miki, Mary, Val, Wendy, and Julissa. Hope to see you soon."
- B.K. /
Google /
Sep 01, 2022
Previous
Next
What Are the Benefits Of Visian ICL?
With a Visian ICL procedure, you can enjoy life without the hassle of glasses or contact lenses. Sports, travel, makeup application, and even just waking up in the morning become much easier and less stressful. Broken glasses and lost contact lenses become a thing of the past.
Additional benefits of the Visian implantable collamer lens include:
Reduced risk of dry eye syndrome: There is a small risk of dry eye syndrome after LASIK, due to the laser corneal flap creation. As Visian ICL does not require flap creation with a laser, the chance of dry eye is reduced.
UV protection: The Visian collamer lens provides built-in UV protection that treatments such as LASIK or PRK do not offer.
Removable: Visian ICL is a reversible process, so if your prescription changes or you simply want to remove the lens and go back to glasses, it is possible to change the lens or remove it completely.
Schedule Your Visian ICL Consultation
If you are interested in improving your vision, contact the Kirk Eye Center today to schedule your consultation and find out if Visian ICL is the right treatment for you. Our experienced eye surgeons serve patients in the Chicago area, including River Forest, Oak Park, Cicero, and Naperville.
Implantable Contact Lens FAQ
Are ICLs permanent?
Yes. Results from implantable contact lenses are considered to be permanent. They have proven to be an incredible option for patients who have grown tired of constantly inserting and removing their contact lenses every single day.
How much do implantable contact lenses cost?
The price of implantable contact lenses can vary depending on the patient's unique needs. During your consultation, we can assess your eyes before building out a custom treatment plan and providing you with a detailed cost estimate for the procedure.
Are ICLs safe?
Implantable contact lenses are considered to be very safe and effective. However, in some cases, mild side effects may occur. These include blurry vision, vision loss, and infection. If you notice the signs of any of these conditions, contact Kirk Eye Center immediately.
Related Procedures
Related Posts