If you are nearsighted but are not a candidate for LASIK, EVO ICL may be a good option to help you go glasses-free. EVO ICL (implantable contact lens) is a reversible treatment that involves a lens implanted into your eye to help you see well without the need for glasses or contacts.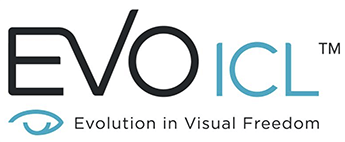 Here at Kirk Eye Center, we offer EVO ICL along with LASIK and PRK as options to correct your vision. If you are interested in achieving better vision, give us a call to schedule your consultation. We serve patients in Chicago, River Forest, Oak Park, Cicero, Naperville, and nearby areas of Illinois.
EVO ICL is an FDA approved surgical treatment to correct nearsightedness. It is a minimally invasive outpatient procedure that only takes around fifteen minutes to perform.
During the procedure, your eye will be numbed by drops. An oral sedative may be taken as well to calm anxiety. No general anesthesia is needed for this procedure. A small incision is then made in the eye, and the flexible collamer lens inserted. The incision is so small that it doesn't even require stitches, and you are free to go home right after the procedure. EVO implantable lenses are made of collamer, which is a natural material compatible with your eye.
Most patients find that their vision is almost immediately improved. You will come back for a follow-up visit the next day so that your eye surgeon can check to make sure everything looks good and is healing properly, and you can then go about your normal day with improved vision.
Who Is A Candidate For EVO Implantable Contact Lenses?
EVO ICL is often a good choice for patients who are not candidates for LASIK. It is an appropriate treatment for patients who:
Have dry eyes
Have thin corneas
Have severe nearsightedness
These conditions often prevent LASIK treatment, but they are not deterrents to EVO ICL. In addition, good EVO ICL candidates:
Are in general good health
Do not have any eye diseases
Are between the ages of 21 and 45
Do not have significant astigmatism
Have stable vision
EVO ICL can correct a wider range of nearsightedness than LASIK. You can have this procedure with a prescription of up to -20D.
Reviews
"Great overall experience with my Lasik procedure for both my eyes. Dr. Kirk & the staff were fantastic throughout the entire process. I'm so pumped that I don't have to wear contacts or glasses ever again!"
- B.M. /
Google /
Jun 19, 2020
"Wonderful Doctor Very professional and very nice guy"
- G.T. /
Google /
Oct 31, 2023
"Thank you! to the office manager at GE for getting my prescription refilled (with additional refills!). Moved to California last spring & had a prescription snafu last month. I appreciate your help and kindness. 👏🏼"
- P.O. /
Google /
Oct 31, 2023
"Easy parking and an accomadating Friendly staff. I was fully informed of what was being done . I have complete confidence in the staff and the physician . I trust Dr Kent Kirk with my eyes . I had lasik more than 20 years ago with Dr Kent Kirk and I could not be more pleased . I didn't look forward to cataracts . It stinks getting old but I'm glad I have such good people to take care of me . I had cataract surgery October 18th 2023 It was so easy I'm mad I didn't do it sooner. It's one week and vision is 20/20 . No pain Eye drops but no oral medication."
- B.M. /
Google /
Oct 26, 2023
"Friendly and quick service, and a reliable eye exam each year. Thanks!"
- J.L. /
Google /
Oct 26, 2023
Previous
Next
What Are the Benefits Of EVO ICL?
With a EVO ICL procedure, you can enjoy life without the hassle of glasses or contact lenses. Sports, travel, makeup application, and even just waking up in the morning become much easier and less stressful. Broken glasses and lost contact lenses become a thing of the past.
Additional benefits of the EVO implantable collamer lens include:
Reduced risk of dry eye syndrome: There is a small risk of dry eye syndrome after LASIK, due to the laser corneal flap creation. As EVO ICL does not require flap creation with a laser, the chance of dry eye is reduced.
UV protection: The EVO collamer lens provides built-in UV protection that treatments such as LASIK or PRK do not offer.
Removable: EVO ICL is a reversible process, so if your prescription changes or you simply want to remove the lens and go back to glasses, it is possible to change the lens or remove it completely.
Schedule Your EVO ICL Consultation
If you are interested in improving your vision, contact the Kirk Eye Center today to schedule your consultation and find out if EVO ICL is the right treatment for you. Our experienced eye surgeons serve patients in the Chicago area, including River Forest, Oak Park, Cicero, and Naperville.
What can I expect after ICL?
Following your implantable contact lens procedure, it is more than normal to notice blurred or hazy vision. Your eyes may take a couple of weeks to fully adjust to the new implants. In the first days following your procedure, you will want to avoid getting your eyes wet, whether from the shower, swimming, or other factors. After healing, you can expect your implantable contact lenses to last forever. However, if a change in vision or other circumstances occur, we can also remove them here at Kirk Eye Center in the future if needed.
Implantable Contact Lens FAQ
Are ICLs permanent?
Yes. Results from implantable contact lenses are considered to be permanent. They have proven to be an incredible option for patients who have grown tired of constantly inserting and removing their contact lenses every single day.
How much do implantable contact lenses cost?
The price of implantable contact lenses can vary depending on the patient's unique needs. During your consultation, we can assess your eyes before building out a custom treatment plan and providing you with a detailed cost estimate for the procedure.
Are ICLs safe?
Implantable contact lenses are considered to be very safe and effective. However, in some cases, mild side effects may occur. These include blurry vision, vision loss, and infection. If you notice the signs of any of these conditions, contact Kirk Eye Center immediately.
Vision Transformation Awaits
Ready to enhance your vision with the latest in eye care technology? Schedule your consultation at Kirk Eye Center in Chicago, River Forest, Oak Park, Cicero, Naperville, and nearby areas of Illinois, and discover the life-changing benefits of implantable contact lenses. Take the first step towards clearer, sharper vision today – our expert team is excited to guide you through every step of this transformative journey!
Related Procedures
Related Posts