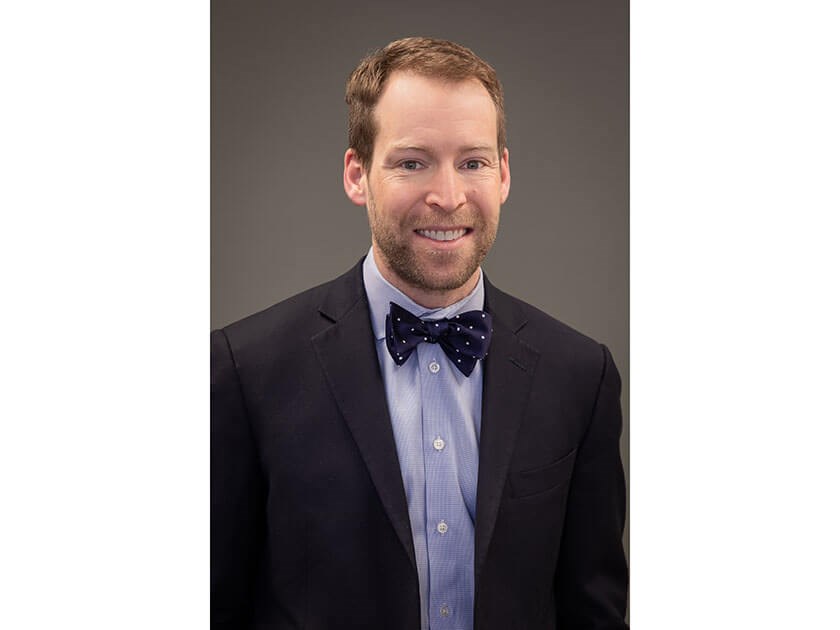 Tyler Kirk, MD is a board-certified, fellowship-trained ophthalmologist specializing in the latest surgical options to treat cataracts and glaucoma. He became the third generation of Kirk family eye specialists when he joined Kirk Eye Center in 2012. He is honored to be able to work alongside several of his family members to carry on the legacy of excellent ophthalmology care started by his grandfather, Dr. Harold Q. Kirk. Working at both the River Forest and Gurnee, IL clinics, Dr. Kirk specializes in minimally invasive glaucoma surgery (MIGS), as well as customized cataract management, including laser cataract surgery. He is enthusiastic about embracing the newest surgical innovations so he can continue to provide his patients with their best possible vision and eye health.
Dr. Kirk graduated magna cum lade from the College of William & Mary in Williamsburg, VA before earning his doctor of medicine degree from the University of Virginia. He completed his internship and residency in ophthalmology at the University of Mississippi. During his time as chief resident, he developed a heightened interest in cataracts and glaucoma. He furthered his ophthalmology training with a fellowship year at Allegheny General Hospital in Pittsburgh, PA where he gained additional experience in glaucoma and complex cataract surgery. During this time, he assisted with developing new surgical techniques, which were published in the Journal of Cataract and Refractive Surgery.
During medical school, Dr. Kirk published research in several journals, including the American Journal of Ophthalmology. He presented his work during annual meetings for both the Association for Research in Vision and Ophthalmology (ARVO) and the Virginia Society of Ophthalmology.
Dr. Kirk is board certified by the American Board of Ophthalmology. He is also proud to be a member of the following societies:
American Academy of Ophthalmology
American Glaucoma Society
In his spare time, Dr. Kirk enjoys distance running, CrossFit, and cycling. He completed the IRONMAN Wisconsin twice and has run multiple marathons. In 2004, he placed 50th in the Boston Marathon. He and his wife, Kerry, have been married since 2019.
Reviews
"Very good procedure and quick results. Į would highly recomend Dr. Tyler Kirk for eye procedures. Surgical center was very organized."
J.L.
Google
"Dr Kirk and his staff did a wonderful job from the beginning of my care through the surgical procedures. They are now helping me with my post op and my results are terrific. I am so very pleased, please consider visiting with them for your vision needs."
J.O.
Google
"I've had both eyes done one in May 2022 and the second one in September 202 2December 2022 my followup. Superb Work, Doctors very Professional and very Professionally Skilled from the Fathers, Uncles and Sons. The Clean Atmosphere floors not dirty, tables were not dusty or dirty. The Reception Desk personnel were very Caring, Warm and Helpful. The Admitting Nurses whether Female or Male was exceptionally Courteous, Kind and Well Trained. Surgical Area Clean, Staff was Exceptionally Caring, Attenative and Warm Hospitable. I Recommend to anyone that if you're fearful, scared out of your wits I can assure you get the Best Surgery and Treatment any one can dream of from Kirk Eye Center in River Forest, Ill."
C.W.
Google
"I came here for LASIK not long ago and I had an incredible experience! All of the staff were wonderful, the consultation process was thorough and tailored to my individual situation, and it was easy to get in contact with someone if I had questions. The process of getting LASIK at the surgery center was also great, all of the staff I interacted with were awesome and I felt like I was in good hands the whole time. I left with all of my questions answered, and I felt fully prepared to take care of myself post-procedure. I was really appreciative that Dr. Kirk called me later on in the evening to check in and make sure that the acute post-op period went smoothly, and I know who to call if I ever do need anything from them in the coming months. Overall, I would definitely recommend Kirk Eye Center and the surgery center, and I had a very positive experience!"
B.L.
Google
"Great overall experience with my Lasik procedure for both my eyes. Dr. Kirk & the staff were fantastic throughout the entire process. I'm so pumped that I don't have to wear contacts or glasses ever again!"
B.M.
Google
Related Posts