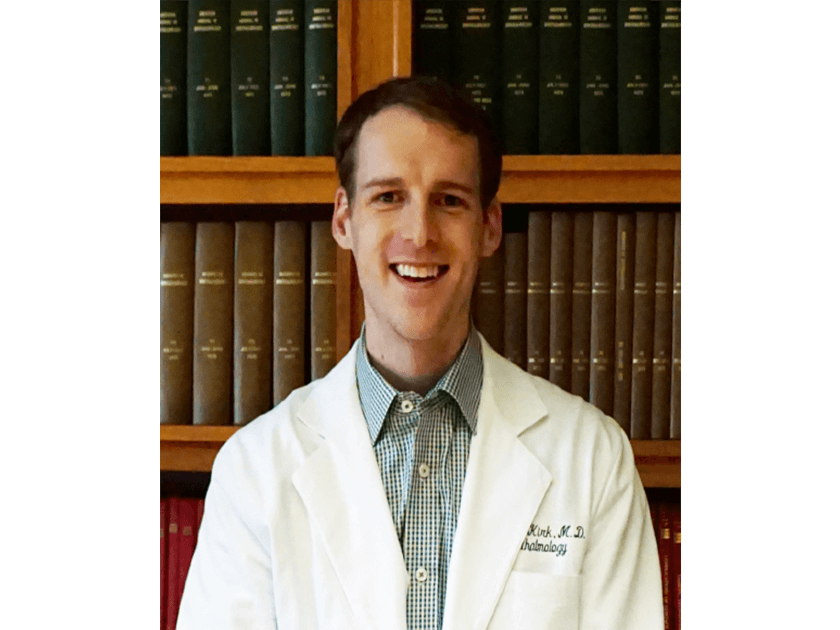 Board-certified ophthalmologist Carter Kirk, MD is a Chicago area native and is among the third generation of Kirk doctors at Kirk Eye Center. He is an expert in treating corneal disease and external eye disease. Dr. Kirk also specializes in performing small-incision cataract surgery with artificial intraocular lens implementation to help individuals achieve clearer vision. He works closely with his patients in River Forest and Gurnee, IL to provide top level of compassionate, personalized care.
Dr. Kirk earned his bachelor's degree from the College of William & Mary in Williamsburg, VA. After that, he attended medical school at Georgetown University in Washington, D.C. He completed his medical internship at West Suburban Medical Center in Oak Park, IL, followed by his residency in ophthalmology at the University of Alabama at Birmingham Callahan Eye Hospital. He chose to further his training with a fellowship in cornea, external disease, and refractive surgery at Eye Consultants of Atlanta. Dr. Kirk is actively involved in clinical research and has presented his findings at the Association for Research in Vision and Ophthalmology (ARVO) and the American Academy of Ophthalmology (AAO).
Dr. Kirk is a member of the following professional organizations:
American Academy of Ophthalmology
American Society of Cataract and Refractive Surgery
Cornea Society
In his free time, Dr. Kirk enjoys spending time with his wife, Nicole, and their three children. His other hobbies include staying active by running and playing tennis.
Reviews
"Dr Kent Kirk and the entire staff are amazing.They are caring, well organized and I had a fantastic resultMy sight in my right eye went from just barely being able to see the big E on the eye chart to 20/25 visionJust incredible!!!Thank you Dr Kent Kirk and staff I could not be happier Getting ready to do my second cataract surgery and I would NOT use anyone else but Kirk Eye Care!!!They know what they are doing and do eye care extremely well!!"
I.D.
Yelp
"Although I am fairly young, for some reason my eyes started to develop cataracts. Getting to a point when driving my car became a dangerous adventure, after a thorough search on internet I have opted for cataract surgery at Kirk Eye Center. I wasn't disappointed, everything there was top notch! Starting from the receptionists to the nurses, I was always treated in a very professional and courteous manner. Many thanks to Ms Joyce Wolter, the surgery manager who helped me going through all the paperwork and dealed with my insurance! She made everything look easy to me! All my life since childhood I've had poor vision but now after my right eye surgery I have 20/20 vision! It feels like I am reborn, all these vibrant colors and multitude of details I have never been aware before! Thank you from the bottom of my heart, Dr Scott Kirk! You gave me the best gift! We all take for granted the vision and we realize that only after we lose it! Note: I have opted for premium IOL's, I wanted for my eyes the best I can get. They are quite expensive and not covered by insurance, but I can personally state that they worth every penny! I cannot wait for the left eye surgery a week from today!"
G.R.
Google
"I came here because of rapidly declining vision in my right eye. I was assigned to Dr. Kent Kirk (one of several of the family of Dr. Kirks in this practice) and was absolutely amazed at the quality of the care I received here! Dr. Kent spent nearly an hour (!) with me carefully examining my eyes, asking questions about my health history, diagnosing my condition (which fortunately was treatable), answered ALL my questions and fears, and made real sure I left with the eyedrops and Rx for supplements I needed to care for my condition. When is the last time a doctor spent an hour with you?! He has a kind, gentle chairside manner, reassuring me in no uncertain terms that my vision was 100% fine and just needed some TLC. I returned today for my follow-up and got the green light to resume using my contact lenses, and I couldn't be happier! His treatment worked beautifully! I strongly recommend this caring and highly professional family-owned practice to everybody. And they even took my insurance! How sweet is that!"
S.H.
Google
"I had LASIK done at Kirk Eye Center and had a fantastic experience. They did a thorough exam before the surgery and were able to schedule a time that worked for me. On the day of LASIK I was really nervous but the staff was very positive and made me feel at ease. Dr. Kent Kirk did a fabulous job. He comes to chat with you before the surgery to give a run down and made me feel so much less nervous. They use the most up to date LASIK machines and the process was so simple. I was in and out in less than an hour and they took great care of me. I went home and slept as they recommended and woke up being able to see perfectly! I am so happy I decided to get LASIK and more importantly that I chose Kirk Eye Center. They're the best of the best (I looked into many other places as well)."
C.M.
Google
"Great overall experience with my Lasik procedure for both my eyes. Dr. Kirk & the staff were fantastic throughout the entire process. I'm so pumped that I don't have to wear contacts or glasses ever again!"
B.M.
Google
Related Posts