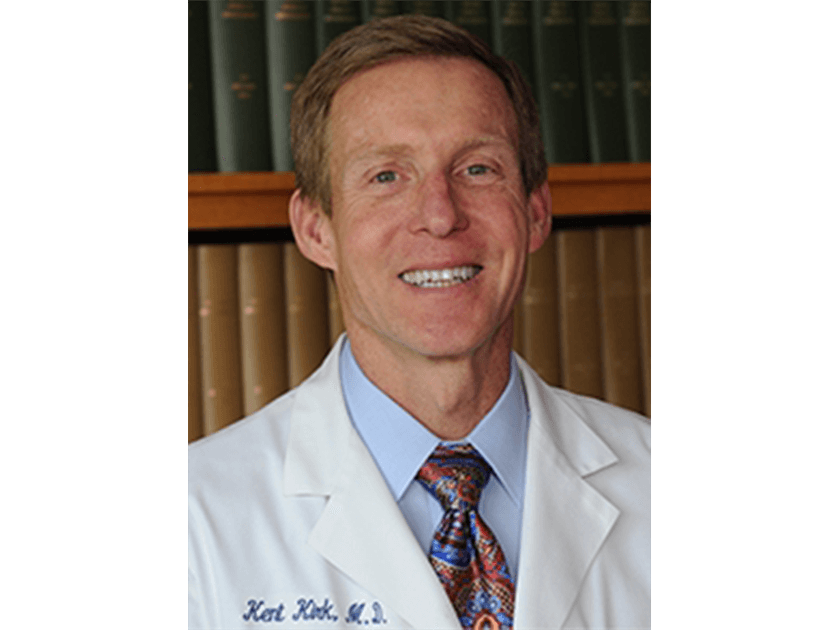 Kent Kirk, MD is a board-certified ophthalmologist in River Forest and Gurnee, IL specializing in laser vision correction procedures, including LASIK and PRK, as well as traditional and laser cataract surgery. He joined the Kirk Eye Center team in 1986 to work in clinical and surgical ophthalmology alongside his late father, Dr. Harold Q. Kirk, a leader in ophthalmology who founded the practice in the 1950s. Kent Kirk, MD is honored to maintain his father's commitment to the successful eye and vision outcomes and service-oriented care. Dr. Kirk utilizes advanced techniques and a compassionate approach as he helps his patients attain their best vision.
Dr. Kirk received his bachelor's degree from the University of Illinois at Urbana-Champaign and attained his doctor of medicine degree at Northwestern University Feinberg School of Medicine in Chicago. He completed his internship at Evanston Hospital in Evanston, IL, followed by an ophthalmology residency at Washington University in St. Louis. He formerly served as an associate clinical professor of ophthalmology at the Illinois Eye and Ear Infirmary in Chicago.
Dr. Kirk holds memberships in the American Society of Cataract and Refractive Surgery, the American Academy of Ophthalmology, the Society for Excellence in Eyecare and the Outpatient Ophthalmic Surgery Society.
Reviews
"Very good procedure and quick results. Į would highly recomend Dr. Tyler Kirk for eye procedures. Surgical center was very organized."
J.L.
Google
"Dr Kirk and his staff did a wonderful job from the beginning of my care through the surgical procedures. They are now helping me with my post op and my results are terrific. I am so very pleased, please consider visiting with them for your vision needs."
J.O.
Google
"I've had both eyes done one in May 2022 and the second one in September 202 2December 2022 my followup. Superb Work, Doctors very Professional and very Professionally Skilled from the Fathers, Uncles and Sons. The Clean Atmosphere floors not dirty, tables were not dusty or dirty. The Reception Desk personnel were very Caring, Warm and Helpful. The Admitting Nurses whether Female or Male was exceptionally Courteous, Kind and Well Trained. Surgical Area Clean, Staff was Exceptionally Caring, Attenative and Warm Hospitable. I Recommend to anyone that if you're fearful, scared out of your wits I can assure you get the Best Surgery and Treatment any one can dream of from Kirk Eye Center in River Forest, Ill."
C.W.
Google
"I came here for LASIK not long ago and I had an incredible experience! All of the staff were wonderful, the consultation process was thorough and tailored to my individual situation, and it was easy to get in contact with someone if I had questions. The process of getting LASIK at the surgery center was also great, all of the staff I interacted with were awesome and I felt like I was in good hands the whole time. I left with all of my questions answered, and I felt fully prepared to take care of myself post-procedure. I was really appreciative that Dr. Kirk called me later on in the evening to check in and make sure that the acute post-op period went smoothly, and I know who to call if I ever do need anything from them in the coming months. Overall, I would definitely recommend Kirk Eye Center and the surgery center, and I had a very positive experience!"
B.L.
Google
"Great overall experience with my Lasik procedure for both my eyes. Dr. Kirk & the staff were fantastic throughout the entire process. I'm so pumped that I don't have to wear contacts or glasses ever again!"
B.M.
Google
Related Posts