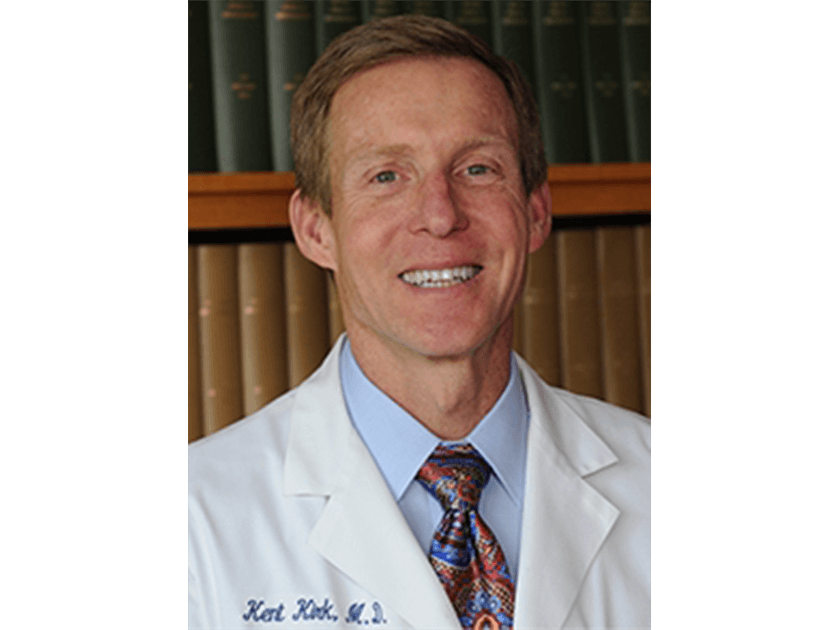 Kent Kirk, MD is a board-certified ophthalmologist in River Forest and Gurnee, IL specializing in laser vision correction procedures, including LASIK and PRK, as well as traditional and laser cataract surgery. He joined the Kirk Eye Center team in 1986 to work in clinical and surgical ophthalmology alongside his late father, Dr. Harold Q. Kirk, a leader in ophthalmology who founded the practice in the 1950s. Kent Kirk, MD is honored to maintain his father's commitment to the successful eye and vision outcomes and service-oriented care. Dr. Kirk utilizes advanced techniques and a compassionate approach as he helps his patients attain their best vision.
Dr. Kirk received his bachelor's degree from the University of Illinois at Urbana-Champaign and attained his doctor of medicine degree at Northwestern University Feinberg School of Medicine in Chicago. He completed his internship at Evanston Hospital in Evanston, IL, followed by an ophthalmology residency at Washington University in St. Louis. He formerly served as an associate clinical professor of ophthalmology at the Illinois Eye and Ear Infirmary in Chicago.
Dr. Kirk holds memberships in the American Society of Cataract and Refractive Surgery, the American Academy of Ophthalmology, the Society for Excellence in Eyecare and the Outpatient Ophthalmic Surgery Society.
Reviews
"I had LASIK done at Kirk Eye Center and had a fantastic experience. They did a thorough exam before the surgery and we're able to schedule a time that worked for me. On the day of LASIK I was really nervous but the staff was very positive and made me feel at ease. Dr. Kent Kirk did a fabulous job. He comes to chat with you before the surgery to give a run down and made me feel so much less nervous. They use the most up to date LASIK machines and the process was so simple. I was in and out in less than an hour and they took great care of me. I went home and slept as they recommended and woke up being able to see perfectly! I am so happy I decided to get LASIK and more importantly that I chose Kirk Eye Center. They're the best of the best (I looked into 3 other places as well)."
C.M.
Google
"I've been coming here for over 20 years. The doctors, especially Dr Kent Kirk, are just exceptional in their craft, follow through and patient care. I can't recommend them enough. Truly exceptional!"
R.K.
Google
"I had a great experience at Kirk with my Lasik surgery. They were able to schedule me quickly for both the consultation and actual surgery. Joyce was super helpful and very responsive with communication. The actual procedure was quick and they made me feel very comfortable and safe. 1 week out - I'm so glad I did Lasik and and so glad I went to Kirk Eye Center!"
K.P.
Google
"Wonderful service and I had great results with my LASIK. The staff is all friendly and the doctor (Dr Kirk) is so personable and helpful. Would highly recommend!"
A.K.
Google
"Great overall experience with my Lasik procedure for both my eyes. Dr. Kirk & the staff were fantastic throughout the entire process. I'm so pumped that I don't have to wear contacts or glasses ever again!"
B.M.
Google
Related Posts